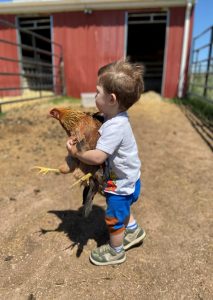 Childcare buildings come in all shapes and sizes, and sometimes, they're pole barns! Whether you're looking after a handful of children or dozens at once, you need a well-constructed facility you can trust to keep you and the kids safe, dry, and comfortable.
Hansen Pole Buildings offers the sturdiest, most affordable childcare building pole kits for sale anywhere. You can design your own daycare building and put it together quickly thanks to the speed and simplicity of post-frame construction. Get a free quote to determine the of your and start making today.
Design and Construction
Whether they're playing or learning, kids need a lot of room to move and spread around. Most of the daycare pole buildings we have for sale allow for interior space up to 100 feet wide, with sliding doors 36 feet wide or more. The lack of interior poles means there's more room for activities, reading circles, and stretching out during nap time.
You're welcome to alter your facility's design, style, and colors as many times as you like before you finalize your kit. You can add loft space to store more toys and games or put windows on each wall to let the sunlight in. There are also different options for trimming to add a little decoration to your interior.
Cut costs without cutting corners by building your childcare facility yourself. DIY construction for you should be easy with the engineer-sealed plans included with your kit, but if you need extra help, we'll be glad to connect you with a reliable local contractor.
We want your daycare building to fit your budget, so let us know right away if you find a better quote from another company and we'll either match their price or give you another quote for a comparable pole building. We're here to help with that bring your vision to life for a price that won't break the bank.
Order Your Childcare Building Today
Just as parents in your community place their trust in you, we hope you'll place your trust in us. Count on Hansen Pole Buildings to provide reliable service and affordable solutions for all your daycare pole building needs. When you're ready to get started, request a free quote and tell us what you're looking for.
Get A Free Quote!