Wildlife rehabilitation facilities are ones which assist native wildlife which have been injured by vehicles, caught in fences or traps, hurt by domestic animals, those which have run into windows or been shot.
*HANSEN BUILDINGS IS NOT A WILDLIFE SANCTUARY*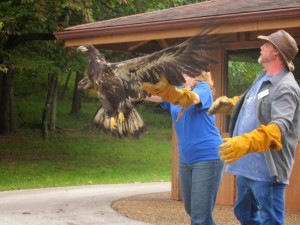 Animals which are frequently rehabilitated include cottontail rabbits, songbirds, skunks, box turtles, squirrels, opossums, birds of prey, groundhogs, bats, waterfowl and as well as foxes, raccoon's and coyotes.
These facilities typically have to be inspected by organizations such as the state Department of Natural Resources, the Federal Division of Fish and Wildlife and the U.S. Department of Agriculture. Besides local Building Permits, the structures may require permits and inspections by state and local authorities.
Post frame (pole) buildings are ideal for facilities such as these as they are affordable, easily constructed and require little to no maintenance. All of these are important, as these operations are typically 501(C)(3) charitable organizations.
Hansen Pole Buildings does offer a discount to qualified charitable organizations. To find out if yours qualifies, please read here: https://www.hansenpolebuildings.com/2013/08/charitable-organizations/
Even in agricultural zones, these sanctuaries often need zoning variances to operate. While zoning ordinances list many uses for every classification, wildlife rehabilitation specifically is rarely included and if not, a conditional use permit may be required.
It is imperative to be in contact with the local Planning Department officials when considering such an operation. Helpful hints as to how to interact with the Planning Officials is available here: https://www.hansenpolebuildings.com/2013/01/planning-department-3/
Pole buildings can be used for housing the most fragile patients – ones which require intensive nursing care. For animals which might struggle to survive in single-digit winter temperatures (such as turtles, opossums and owls) a climate controlled pole building can be the difference between life and death. They also can provide much needed storage space.
For assistance with the design and planning of your wildlife rehabilitation facility, please call discuss with your Hansen Pole Buildings' Designer.
*HANSEN BUILDINGS IS NOT A WILDLIFE SANCTUARY*
We provide post frame materials kits with engineer sealed plans. Please do not call to report injured animals as we are not equipped offer services.
Thank you