Keeping It Above Ground….
Concrete is poured for a new building. Plans change – it is now going to be a pole building. Now what do we do? Or, for whatever reason, you just do not feel comfortable embedding pressure treated wood columns in the ground for your new pole barn. For both circumstances, there is an answer.
Concrete brackets are available which have been specially designed for the post frame industry. These provide solutions for already poured concrete, or concrete yet to be poured.
The brackets are made with a high strength, low alloy domestic steel. The 1/4" steel plate is robotically welded insuring the highest quality.
Most current generation pressure treated wood available today is designed to minimize corrosion. All concrete brackets are finished with a baked polyester powder coat to prevent corrosion, resist UV damage, and provide a professional look to your project. However, if you have a high moisture application or are concerned about possible corrosion, place a barrier between the treated wood and steel bracket, and use stainless steel fasteners.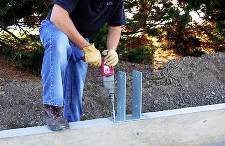 Drill-set installation with steel concrete brackets is useful in situations where the concrete foundation has already been poured. One of the main advantages of this type of install is the reduction of placement errors when a concrete subcontractor is used.  5/8" x 5" screw type wedge bolts are preferred for the attachment of brackets to concrete, because of their optimal performance. Two other common fastener options which can be used are epoxy anchors and expansion anchors, either of which can be obtained from local suppliers.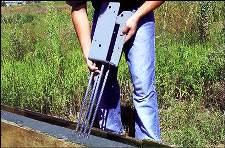 Wet-set (poured into the concrete) brackets are the preferred installation method. They provide for maximum shear, uplift, and moment capacities when compared to the standard drill set brackets. The special grade ½" or 5/8" rebar used in the wet-set models is seismic rated.
Custom sized concrete brackets to fit odd sized columns, such as glue laminated, are not currently available. However, universal one sided drill set brackets are designed to be paired together to fit any sized column while still providing the shear and uplift values as the wet-set models.
While the brackets do not currently have an International Code Council (ICC) Evaluation Report, design values have been certified by a registered professional engineer.
If your vision of your ultimate dream building has columns which are to be mounted on top of concrete, Hansen Buildings has the design solution for you.